Are you searching for the Best 8 kg Front Load Washing Machine in India? That's great, so particularly for a large family for 6-7 members, you need to have an 8 kg washing machine.
So here in this article, I have reviewed and listed these best-selling 8 kg front loading washing machine in 2023 and also have compared Bosch WAT2846WIN,  LG FHT1408ZWL, IFB Senator WXS and Samsung WW80J4243MW front load washing machines.
Also check,
Bosch 8 kg Front Loading Washing Machine
Bosch, a German brand being known for a robust build quality, has this beautiful white 8 kg front load washing machine in India.
This machine has a maximum Spin Speed of 1400 RPM which provide an excellent drying (Still you should not expect 100% drying of clothes like Washer-Dryers).
The most important and highlighted feature in this Bosch 8 kg front loader is that it reduces up to 50% of tangles after a wash cycle so that you won't find you messy to iron your favourite dress.
This machine has EcoSilenceDrive motor that doesn't have brushes which makes it work friction-free. It ensures it's silent operation and more energy efficiency.
Its VarioPerfect technology finishes the wash cycle with much reduced wash-cycle time and less energy consumption.
 ActiveWater feature present in this washing machine uses various sensors to sense load and fabric of laundry and accordingly varies the quantity of water being used in a wash cycle.
This 8 kg front load washing machine gets comparatively bigger VarioDrum which is specially designed to provide water cushion to soft fabrics being washed and prevent them from internal damages.
With programs like AllergyPlus, this 8 kg front loader uses heated water to kill germs and bacteria to provide more hygienic wash.
PROS
Silent in Operation
Excellent wash quality
LG 8 kg Front Loading Washing Machine
LG is the most favourite and trustworthy brand which has this best 8 kg front load washing machine in India 2023.
This machine also has Spin Speed of 1400 RPM that dries clothes quite well. Also, this 8 kg front loader from LG has fully-loaded with latest technology and features.
For excellent wash quality, this machine uses Steam Wash technology that sanitizes the clothes to kill germs and bacteria. Steam also helps laundry fabric to feel more fresh and durable for long use.
This machine comes with powerful features like TurboWash that helps to reduce wash times by almost 50% by speeding up the process. Meanwhile, it reduces energy consumption also.
Being more of a AI Washing Machine, this LG 8 kg front loader comes with AI DD function, which uses artificial intelligence to maintain use of motor based on laundry load.
This machine uses LG's Direct Drive Technology which uses direct coupling of motor and drum to make this machine more energy efficient.
For excellent washing, this 8 kg front load washing machine has 6 Motion Control technology which moves drum is 6 different motions to provide perfect cleaning and cushioning to laundry.
PROS
Best wash quality
Good features
IFB 8 kg Front Loading Washing Machine
As you are looking for a front load washing machine, you should have came to know that IFB is the brand serving with some best front load washing machines in India.
This IFB 8 kg front load washing machine has best technologies that provides excellent wash quality. Spin speed of this 8 kg front loader is 1400 RPM.
Best feature with IFB front loaders is Aqua Energie. This technology is useful to treat hard water and to make it soft water before wash cycle begins. Soft water ensures better solubility of detergent and better wash quality. This IFB 8 kg front load washing machine most suitable of Hard Water areas.
Also, to take care of soft fabrics while providing a quality wash, this front loader has CraddleWash program. This program is used for soft fabrics like silk wash.
For soaking of clothes, this machine has 4D Wash that sprays water jets from 4 directions. This helps detergent to dissolve better and provide better soak that loosens up tough dirt in fabrics.
For daily laundry, Repeat Wash programs help to reuse same wash settings.
IFB has Ball Valve technology that doesn't let detergent leave drum with wastewater of wash cycle. Hence it saves detergent.
For Hygienic washing, this front load washing machine has Anti-Allergen programs that do hot water wash and deliver germ-free laundry.
PROS
Excellent wash quality
Suitable for hard water
CONS
No machine related cons found
Installation guy issues
Samsung 8 kg Front Loading Washing Machine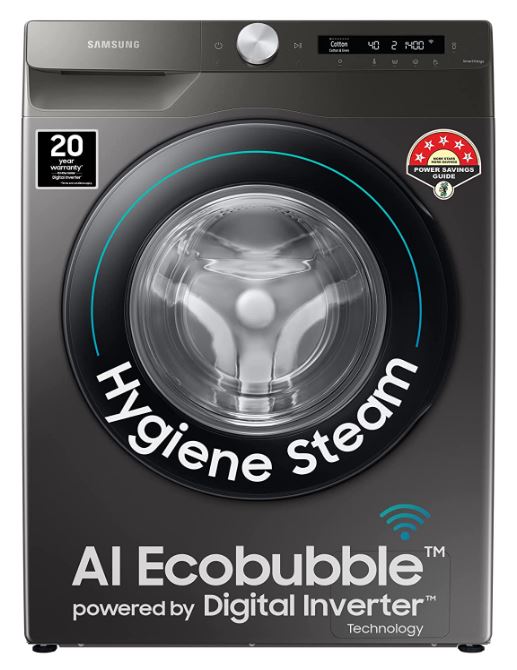 Samsung is kind of an underrated brand when it comes to front loader washing machines. But the best thing I like about Samsung Washing Machines is they got elegant styling, great technologies and are budget-friendly.
This Samsung 8 kg front load washing machine Spin Speed of 1200 RPM, less than compared to other 8 kg front loaders, but does its job well.
The important thing is this Samsung 8 kg front loader has Digital Inverter technology that uses magnetic field which runs motors friction-free. It nothing but generate low noise, but also provides energy efficiency.
An important feature for best wash quality is Eco-Bubble technology that produces millions of bubbles in water with detergent. These bubbles penetrate through fabrics and help the fabric to loosen the toughest stains while Bubble-Soaking and washing.
For drum cleaning, this 8 kg front load washing machine has Eco Drum Clean technology that sanitizes the drum and thoroughly cleans it for long durable life.
This front loader has a smartphone connectivity feature using Smart Check. With which you can diagnose your washing machine for program or internal errors and resolve them yourself. This saves your major expenses on maintenance in future.

Please note this washing machine does not have Hygiene Steam Wash though Product on Amazon shows that it has

.
PROS
Eco Bubble wash feature
Excellent wash quality for huge laundry
CONS
No laundry-add feature.
Eco-bubbles issue reported in reviews.
Out of these 8 kg front load washing machines, all 8 kg front load washing machines are a good performer in case of wash quality and being noise & vibration-free.
But somewhere I feel that LG 8 kg Front-load washing machine would do better in wash quality as compared to Bosch , IFB Senator and Samsung  front loader due to Steam Care Technology.
As far as budget is concerned, Bosch might be a good washing machine to buy, but I would say for 3-4k more LG 8 kg front load washing machine would be a much better buy due to its WiFi technology.
Samsung WW80J4243MW can be the Best Budget 8 kg Front Load washing machine, but I would suggest you check if the product you buy will have Eco Bubble technology working well.
So finally, without any doubt, I would say that the best 8 kg front load washing machine in India is LG 8 kg Front Load Washing Machine based on its performance & features compared to other rivals like Bosch, IFB or Samsung.
Also Check,

6 Best Washing Machines Under 40000 Budget

13 Best FRONT LOAD Washing Machines to Buy in India