Are you looking for the Best Washing Machine for a Small Family of 4 Members in India? Seems yous answer is yes. Then don't worry in this blog I have listed some best washing machines that you can buy for your small family of around 3-4 members.
Small family means less daily laundry load. So the best washing machine for family of 3-4 members should be of 6-7 kg capacity.
To know more about Washing Machine capacity as per family size, I would suggest you visit our Buying Guide here.
So to help you with your question on which is the best washing machine for a small family of 4 in India, I have listed below semi-automatic and fully automatic washing machines that you can buy online from Amazon India.
Best Front Load Washing Machines for Small Family of 4 Members
LG 6 kg Inverter Front Loading Washing Machine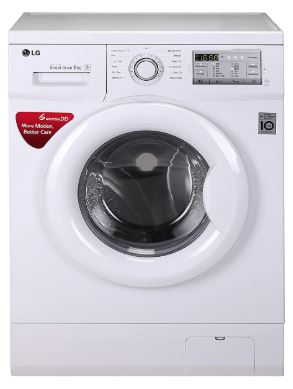 LG being the most trustworthy brand in India, the first best washing machine for a small family in India is this LG 6 kg Front Loading Washing Machine.
The 6 kg capacity is well suitable for small families of upto 3 members. Also, this fully-automatic front loading washing machine has Spin Speed of 1000 RPM which is best in category of washing machines for small family.
This LG Washing machine for a small family is more energy efficient due to Direct Drive Inverter Motor. This machine saves up to 36% energy as claimed by LG India. Also, Steam technology softens and increase life of fabrics.
This machine has an Inbuilt Heater which can raise the temperature of water up to 95°C for a germ-free hygienic wash. This is recommended if you have kids at home.
For excellent cleaning, this LG washing machine come with 6-Motion Control technology that moves drum in 6 different patterns to get them loose most stubborn stains also.
Tub Clean function notifies you to clean drum when it's required to do so. This program runs an empty cycle to thoroughly clean the drum at high water temperature so as to remove detergent residuals trapped in it. It increases the life of the drum and

keeps it hygienic

and odour-free.
Another best thing you could do with this washing machine is you can connect it to your smartphone through SmartThinQ app and monitor the health of this washing machine for your small family. You can diagnose the errors in this washing machine and

save your future maintenance expenses

.
PROS
Less noisy
Good service by LG
Less wrinkled clothes
CONS
No cons found other than delivery/installation guy attitude issues
IFB 6 kg Front Loading Washing Machine
IFB is an emerging washing machine brand in India. It may have poor service in non-metro cities but it has always been a best-selling washing machine brand due to its quality and performance.
IFB Diva Aqua SX has a capacity of 6 kg which makes it a suitable washing machine for small families in India. Also, Spin Speed of 800 RPM provides decent drying time for your laundry.
The best technology in IFB washing machines if Aqua Energie which energizes water before wash. It helps to convert hard water like borewell water into soft water so as to get better dissolvability of detergent for excellent wash quality.
It has an Inbuilt Heater which provides hot water wash to the laundry to make sure you get bacteria-free and fresh clothes. This is recommended for Small family with Kids.
To prevent internal damages to the laundry, IFB washing machines have Crescent Moon Drum. The grooves in this drum flow water over the drum surface so as to provide cushion to delicate clothes.
2D Wash System in this front load washing machine for a family of 4 sprays water jet onto the laundry so as to

soak them better

and lose tough stains from fabrics before the wash cycle begins.
 Also, this machine has Ball Valve that saves detergent being drain out from water outlet. Hence it

saves detergent

consumption.
If you got budget up to 20000 rupees, this is the best washing machine to buy.
There is one White and Black colored model available, you can check it here.
PROS
Hard water suitable
2D wash system doesn't require soaking of cloths
CONS
Need to buy accessories
Service issues with IFB
Bosch 7 kg Front Loading Washing Machine
The German-made Bosch Washing Machines is one of the best-selling washing machines under 30000 budget due to their great performance and quality.
This Front load washing machine has a capacity of 7 kg which perfectly suits the small family of 4 members. Also, spin speed for 1200 RPM delivers better drying.
With Active Water technology, this washing machine saves water intake by sensing laundry weight and fabric type by various sensors present. Also, Speed Perfect feature reduces wash time. These features overall make this machine water and energy-efficient.
Also, an important thing is this Bosch washing machine works with low water pressures up to 0.3 bar. So if you have an indoor water tank in your apartment, this machine will result in shorter wash cycle time as compared to other Front load washing machines.
VarioDrum technology provides the biggest drum in 7 kg category washing machines and it is specially

designed to protect delicate fabrics

like silk.
If you forgot to add your dress for wash after the wash cycle has begun, you can still pause the wash cycle and add the piece of laundry with Reload Function.
It also notifies when drum cleaning is required and thoroughly cleans drum by Drum Clean function to make sure it lives longer.
Bosch front load washing machine has solid built that makes it vibration-free with its Anti-Vibration design.
PROS
Solid design
Excellent wash
Almost Vibration free
Best Top Load Washing Machines for Small Family of 4 Members
LG 6.5 Kg Smart Inverter Top Load Washing Machine
Top Load is the first choice of buyers in India. Also, LG is the most trustworthy brand I would like to suggest this LG fully-automatic top load washing machine for your small family of 4.
This LG washing machine comes with a capacity of 6.5 kg and spin speed of 780 RPM which dries the clothes quite well. 
Most important feature with this washing machine is LG's own Smart Inverter Technology. This technology continuously regulates power input to motor and adjusts it according to wash-load requirement. It, in turn, provides better energy efficiency and performance.
Also, TurboDrum provides excellent wash by rotating drum and pulsator in opposite directions. This powerful wash removes tough dirt and stains in laundry giving it a perfect wash.
You can connect this washing machine with your smartphone through SmartThinQ app and diagnose your washing machine for program errors.
Tub Clean function sterilizes wash drum and ensures long odour-free life.
In case of power failures in between wash cycle is in progress, this machine has Auto-Restart function which resumes the wash cycle from where it has disrupted. 
PROS
Very less noise & vibrations
Good wash quality
Whirlpool 7 kg Top Loading Washing Machine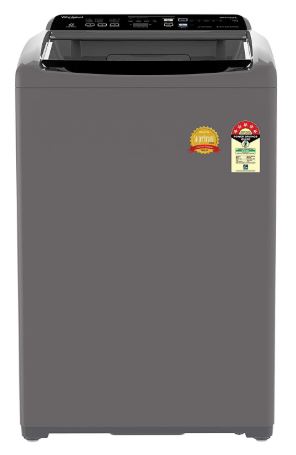 Whirlpool is the brand that if compared to LG, comes with better features with comparatively less price.
This Top load washing machine for a small family of 4-5 has a capacity of 7 kg and spin speed of 740 RPM.
This machine comes with Hard Water Wash technology which converts borewell/salty water into soft water. So the durability issues due to salt precipitation on washing machine components are so less as compared to other washing machines. Also, soft water provides better solubility of water and detergent and results in better wash quality.
Also, 6th Sense technology in this washing machine determines an optimum quantity of water and detergent, by sensing load put in the washtub. It makes this fully-automatic top load washing machine more energy efficient.
Spiro Wash function uses a specially designed agitator which provides unique circular motion to laundry. This provides a better wash.
If you got less-soiled clothes like gym clothes or nightwears, you can quickly wash them using Express Wash program. It reduces wash time to half.
For low water pressure areas, this top load washing machine has ZPFT technology which gets tubs filled almost 50% faster. This again makes it the best washing machine for apartments with indoor water tanks.
To save more water, this top load washing machine has Aqua Store feature that let you store water for next wash.
PROS
Wash Quality is good
Afforable
CONS
Little Noisy at full load
Samsung 7 kg Top load Washing Machine
Samsung has this best top load washing machine with number of good features and very suitable price tag which is #1 best-selling washing machine on Amazon India from long time.
This top load washing machine has capacity of 7 kg which is very suitable small family of up to 3 members. And spin speed of 680 RPM provides good drying of laundry.
For even better drying of clothes in rainy season, this fully automatic washing machine has Air Turbo (Monsoon) mode that rotates the wash drum quite fast for quick drying of laundry.
Also, specially designed stainless steel Diamond Drum provides cushion to laundry and prevent it from inside damages. Eco Drum cleaning programs thoroughly cleans drum to make it hygienic.
This machine has LED display that shows time remaining for wash cycle. Also, this top loader has simple display which makes it easy to use for everyone in your small family.
For long durability of drum, this washing machine has Eco Tub Clean program which notifies you to clean the drum whenever it needs to be.
It has Magic Filter which takes care of fluff and lint particles and keeps your clothes cleaner during the entire cycle.
Program uses Fuzzy Logic to automatically decide the quantity of water and detergent.
PROS
Good wash quality
Budget option
Doesn't make noise (unless overloaded)
CONS
Inlet hose is short
Uses more water
So these were the Best Washing Machines for Small Family of 3 to 4 in India 2023.
In my opinion, though you have a small family and you can settle with any 6 kg washing machine, but it is advisable to choose a 7 kg washing machine from long term perspective.
If you have any questions, please feel free to write in the comment box. Thank you.
Also check,